Centraal sorteren
Pamosa telers kunnen er voor kiezen om in het pakstation van ZON fruit & vegetables, gelegen op Fresh Park Venlo, hun paprika's centraal te laten sorteren.
Deze centrale sorteerlijn is een uitkomst voor veel telers.
De centraal gesorteerde paprika's kunnen bij ZON ook worden verpakt, geheel afgestemd op de wensen van de klant.
Tussenopslag in grote voorraadbakken is eveneens een mogelijkheid die centraal sorteren biedt.
Door dit hele traject van sorteren en verpakken uit handen te nemen ontzorgt ZON de Pamosa telers zonder eigen sorteerlijn. Doordat sommige Pamosa telers zelf verpakken kan de klant uit verschillende locaties kiezen: slim, efficiënt en goedkoop.
De telers worden nauw betrokken bij de opzet en het vaststellen van de tarieven.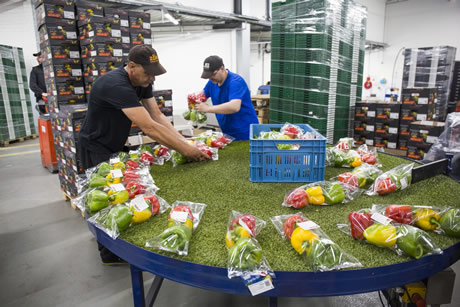 Verpakken
Verpakken in folie per stuk, op gewicht of per aantal, stuks-verpakking in krimpfolie?
Wat uw verpakkingswensen ook zijn, de paprikatelers van Pamosa zijn flexibel en maken verpakkingen passend voor elke klant.
Heeft u vragen of (nieuwe) ideeën over verpakken, dan bespreken we dit graag met u!
Neem gerust vrijblijvend contact met ons op.